Welcome to Market Street

Music Conservatory!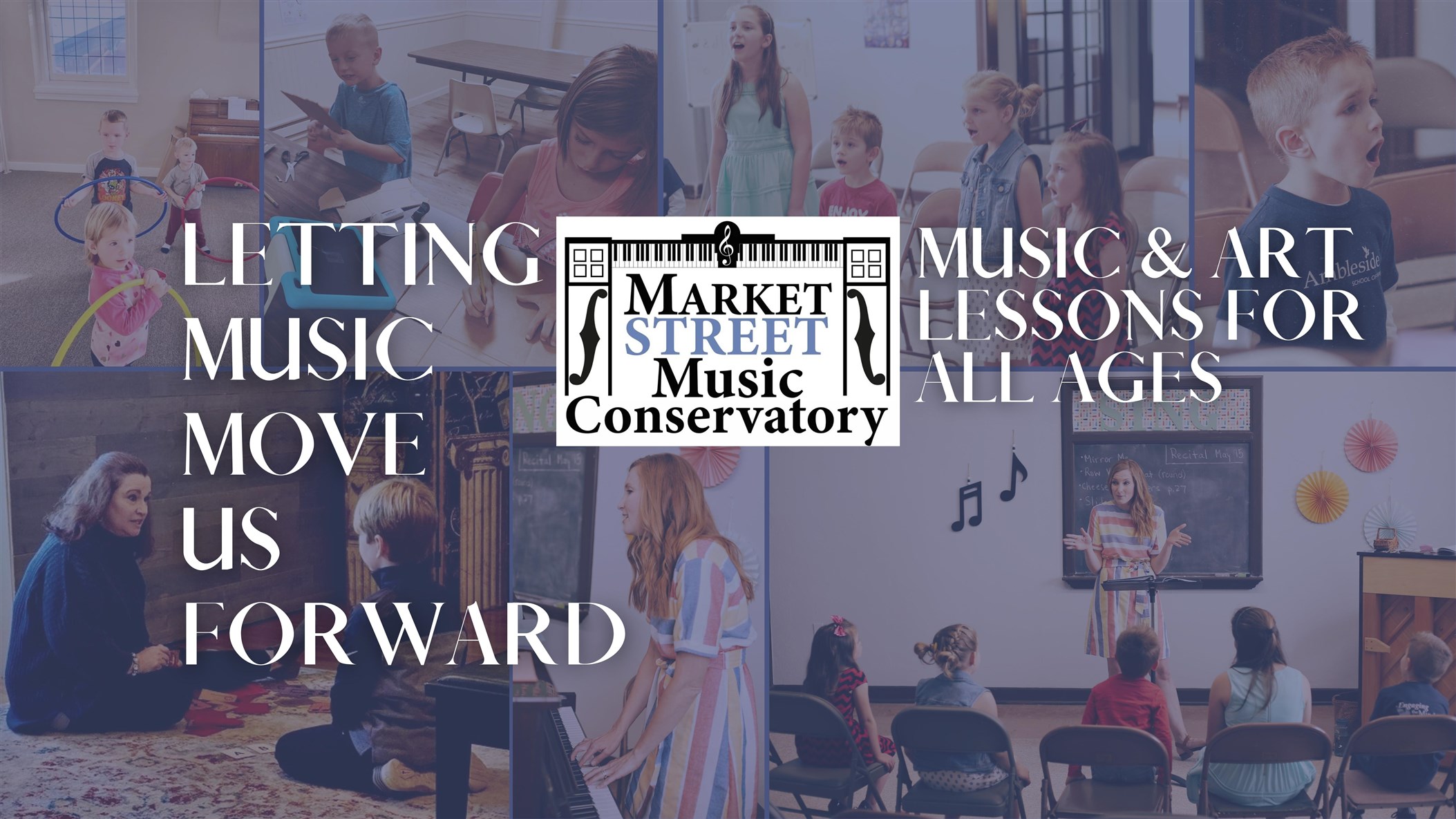 An Introduction to Market Street Music Conservatory
from our Executive Director, April Camden Mitter!
Market Street Music Conservatory is located at 310 North Market Street in Market Street Hall (formerly the First Christian Church building) in Marion, Illinois. We are currently offering private instruction in voice, piano, strings, guitar, brass and percussion as well as classes in art, early childhood music, pre-piano, and choir for youth and adults.
Giving Tuesday 2022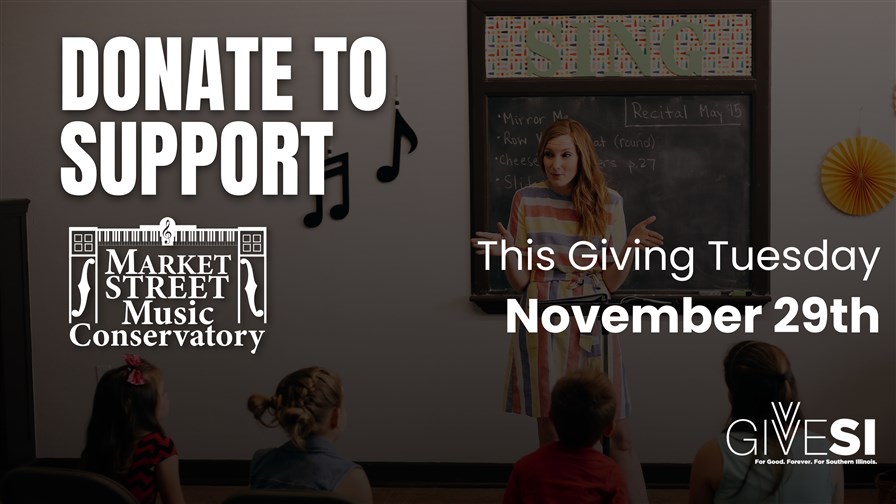 Tuesday, November 29th is Giving Tuesday!
We ask that you would consider donating to Market Street Music Conservatory as we continue in our mission of creating community through art & music. When you give to MSMC, your donations help us continue to make music and art education, as well as performance opportunities, available to everyone!
We are registered with GiveSI.org. GiveSI is a community day of giving for all of Southern Illinois in conjunction with the global movement, #GivingTuesday. SICF & WSIL TV3 will be launching a 30 Hour campaign for nonprofits throughout Southern Illinois. Only donations made after 5:00pm on 11/28 and throughout the day on 11/29, will be counted towards the bonus pool matching.
During that time, visit this link, (bit.ly/GiveSI2022-MSMC) to give directly towards Market Street Music Conservatory.
Thank you for your support of Market Street Music Conservatory.
Our Mission Statement
Market Street Music Conservatory is committed to exceptional and accessible musical training, as well as inspiring students of all ages, skill levels and backgrounds to realize their full potential for lifelong appreciation, enjoyment and commitment to excellence in music and art. Not only does MSMC offer excellent music and art education but also performance and enriching cultural experiences.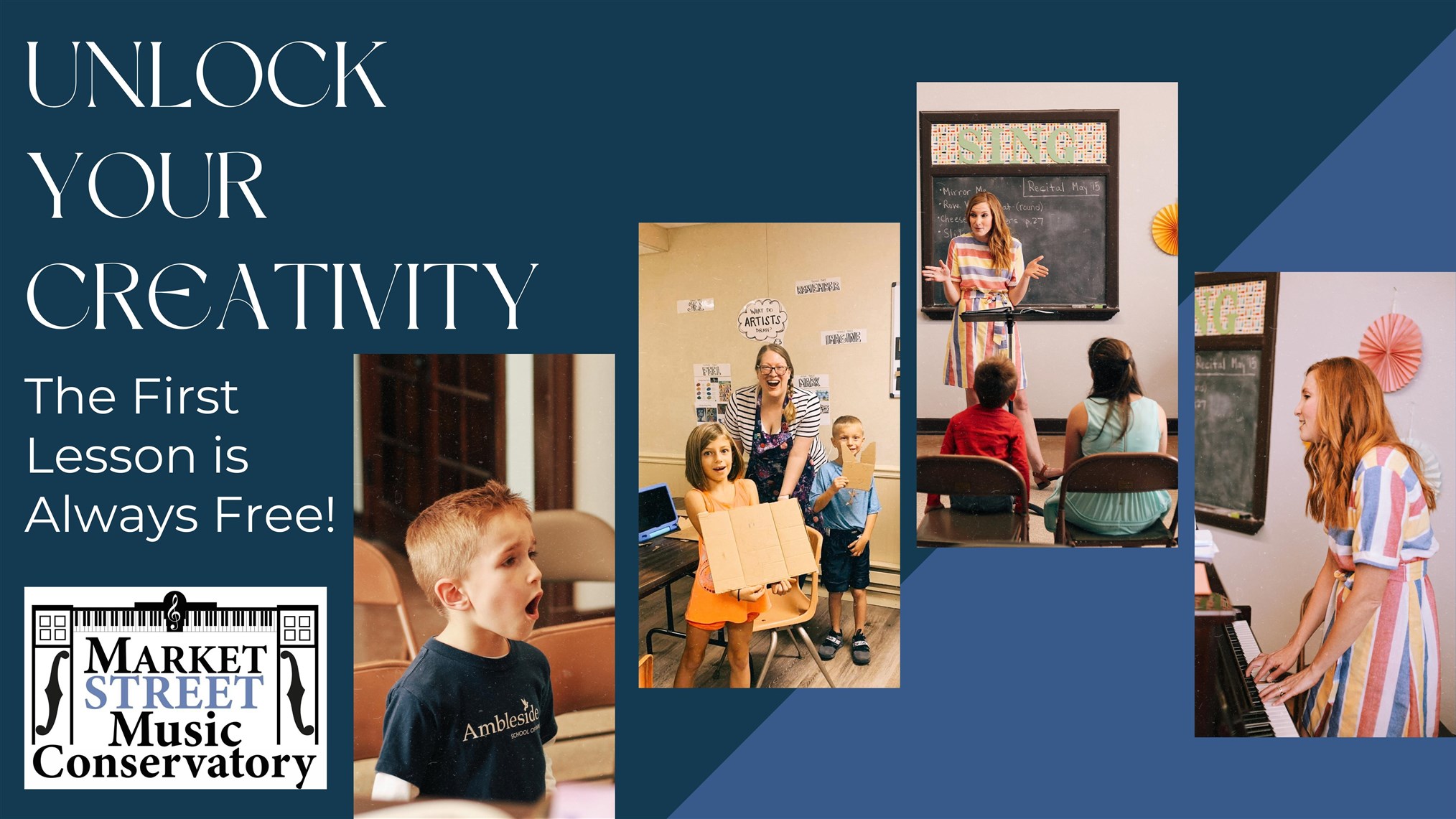 Winter Enrollment Is Now Open!
Check out all MSMC has to offer this winter for all ages
Private instruction in Piano, Voice, Strings (Violin, Viola, Cello), Guitar, Bass Guitar, and Art, as well as group instruction in Art, Youth & Adult Choir, and Music for Early Childhood.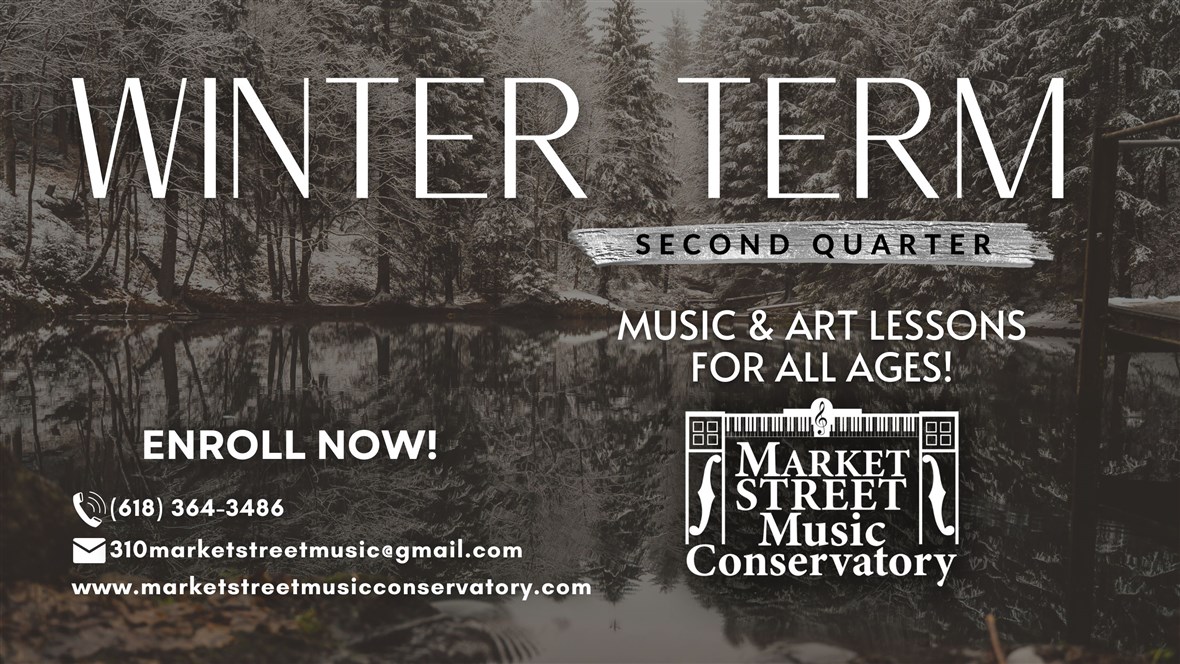 Coffee and Carols: A Moravian Lovefeast
Presented by Market Street Music Conservatory's Community Choir on December 11, at 2PM. This Concert Includes a Candle Lighting Ceremony, Carol Sing-a-Long, Moravian Coffee and Lovefeast Buns!
Ticket sales support Market Street Music Conservatory and need to be purchased in advance.
Ticket price: $15
Please email or call the Conservatory to save your seat!
(618) 364-3486 ~ 310marketstreetmusic@gmail.com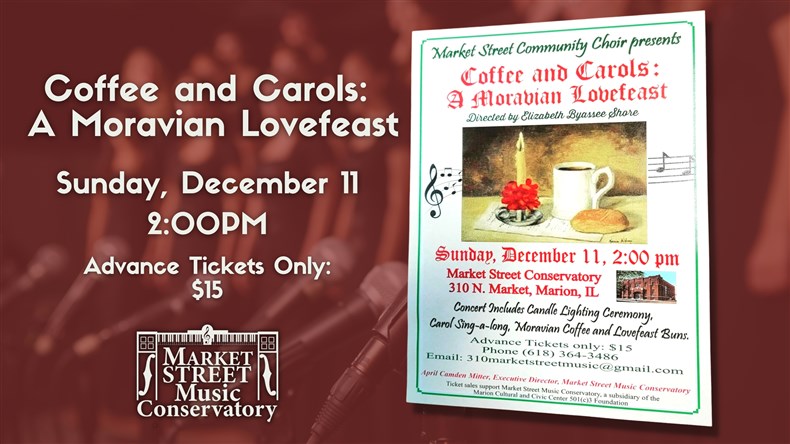 ---
Where We're Located:
Market Street Music Conservatory is located in beautiful downtown Marion, IL! We are just two blocks from the center of the Marion town square, #2BlocksFromTheClock!
We are located at 310 N. Market Street in Market Street Hall (formerly the First Christian Church building).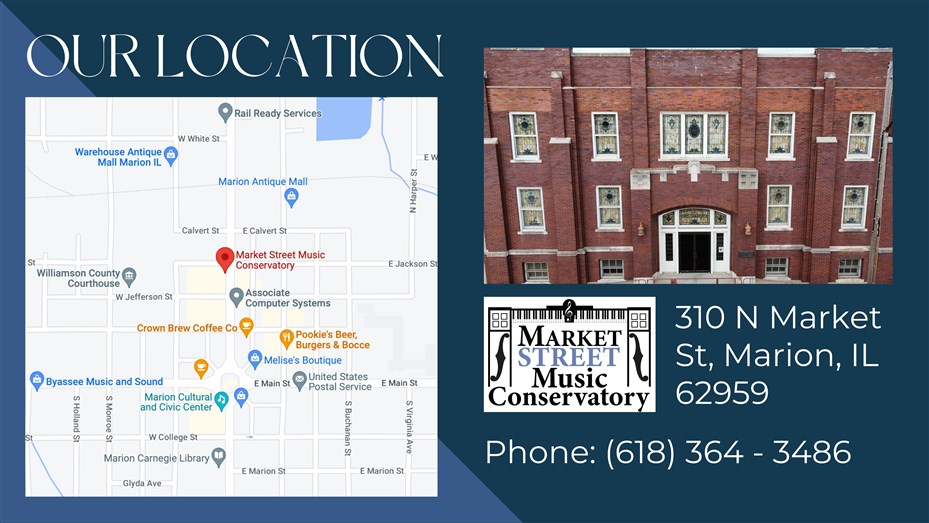 Contact Us:
For all inquiries or to sign up for lessons or classes, you can email us at 310marketstreetmusic@gmail.com. We would love to hear from you!
Address: 310 N. Market Street. Marion, IL, 62959
Phone: (618) 364-3486 (Please leave us a message)
---